Beekeeping is an exciting hobby and nowadays more and more people are starting to take it up, maybe you just have a love for bees, maybe you want to make your own honey to use in your kitchen, or perhaps you see a potential market for selling honey in your local area. People get into beekeeping for various reasons and starting a new hobby is always exciting, however, some hobbies are riskier than others. With all those bees flying around, beekeeping is certainly one of the more riskier hobbies!
in this guide, I will take you through the top-rated beekeeping suits, explaining the pros and cons of each design and picking out the best bee keeper suit that is worthy of your hard-earned cash.
Top 7 Best Beekeeping Suits
Image
Product
Details

Mann Lake Economy Suit

Well-Designed For Great Protection
Great Price For a Full Suit

Check on Amazon

Humble Bee 430 Vented Suit

Great Visibility With The Round Veil
Knee Supports For Extra Comfort

Check on Amazon

Forest Beekeeping Supply Hood Jacket

100% Cotton and Heavy Duty Canvas
Strong Hood and Veil

Check on Amazon

Mann Lake Economy Beekeeper Jacket With Self Supporting Veil

Better Visibility Than Other Veils
Durable and Heavy-Duty Material

Check on Amazon

Humble Bee 310 -Polycotton Beekeeping Jacket

Excellent Visibility From the Round Veil
Light and Breathable

Check on Amazon

Our Top Choice

Natural Apiary - Zephyros Protect Suit

Offers Excellent Protection
Comfortable and Flexible

Check on Amazon

Our Budget Friendly Pick

Natural Apiary - Apiarist (All-in-One)

Great Value for Money
Lightweight

Check on Amazon
The Mann Lake full bee suit is a great option for those starting out in beekeeping, as mentioned it is a full beekeeping suit so this gives you the maximum amount of protection. It's made from a polycotton fabric which is able to withstand bee stings.
The bee veil is designed to collapse and fold away for storage, it is made with a double layer of fabric around the back of the head and neck, giving you extra protection in this delicate area.
The elastic wrists and ankles give a tight fit and will prevent any unwanted bees creeping in, and you also have the elastic straps that help to hold down your sleeves. Heavy duty zips are used throughout the bee suit making this very durable for everyday use.
Pros
Well-designed for great protection
A great price for a full bee suit
Cons
Veil design means the bees can get close to the face
Summary
At $80 Mann Lake are offering a full beekeeper suit and that will be hard to beat in terms of price. This option will give beginners confidence for when they are first starting out in beekeeping, making this a sensible and cost-effective choice.
A Great Price For A Full Suit
MANN LAKE Economy Beekeeper Suit with Self Supporting Veil
Well-Designed For Great Protection!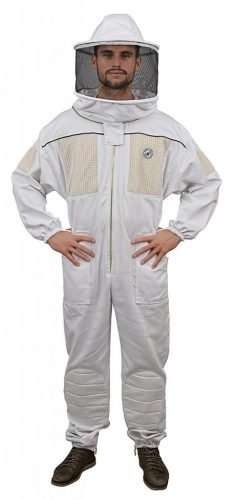 A brilliant all-round bee suit that is made from a blend of cotton and synthetic fabric. The ventilation panels also add an extra coolness when using the bee suit in hotter climates and the foam inserts add extra protection from the stingers.
You can find all of the high-quality standards that should be used when designing beekeeping suits here, strong brass zippers, pockets with double-stitched seams and even a set of cushioned knee pads for added comfort.
The removable round veil provides an excellent viewing area and gives plenty of space between the mesh and your face. Elastic is used around the wrists, waists, and ankles for a tight fit, plus you have got thumb and foot straps to keep everything in place.
Pros
Great visibility with the round veil
Knee supports for extra comfort
Cons
Sizes can be quite large so double check before you buy
Might not have enough pockets for some beekeepers
Summary
You are getting a full-body beekeeping suit with all the trimmings for around the $150 mark, which is pretty good in our books. Plus, it is well-designed and has been created with strong, durable materials, and you also get a carrying case in the price as well!
Great Visibility With The Round Veil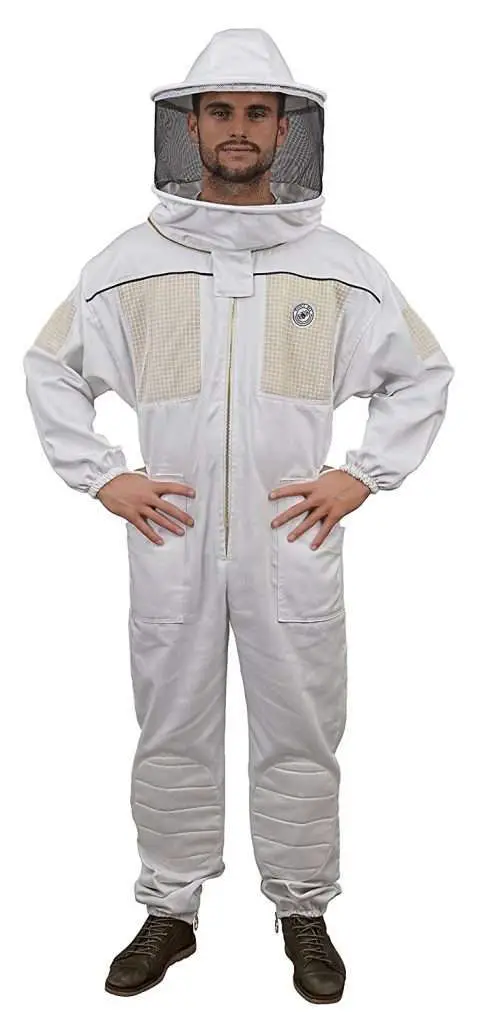 Humble Bee 430 Ventilated Beekeeping Suit with Round Veil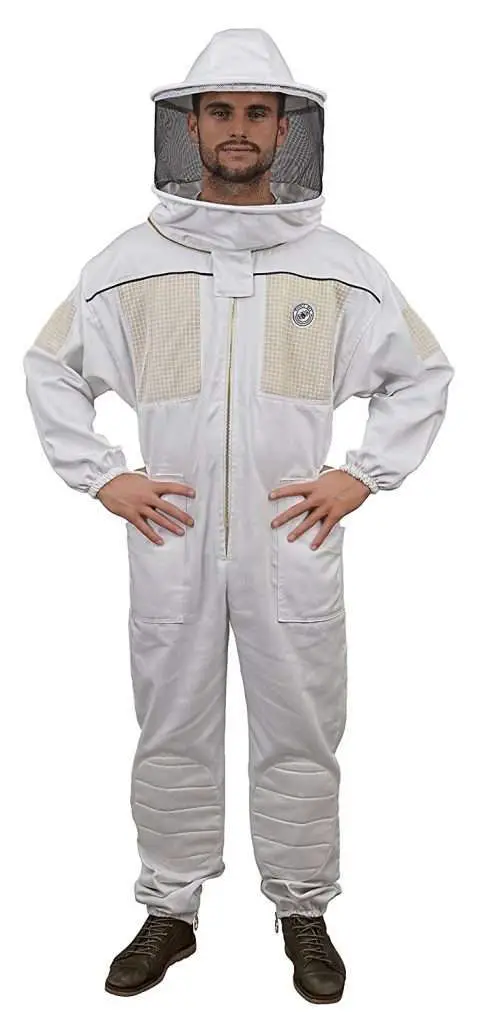 Extra Knee Supports For Extra Comfort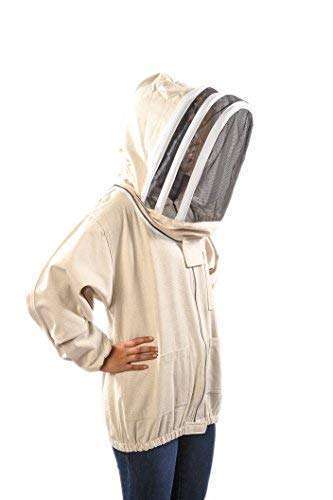 A jacket and hood combo, this 100% cotton canvas is heavy duty and suitable for everyday use. While we recommend a full bee suit for beginners, it comes down to preference and some people prefer only wearing a jacket, and this choice will do a great job in keeping your head and body sting-free. It is light-weight and designed with a double-stitch detail to prevent any possible rips or tears.
The main feature is the hood, it is double layered for increased protection and is detachable with a velcro adjustable strap. The screen is made of fiberglass which gives it extra strength and support, the screen is one of the highlights of this jacket and offers great security and visibility.
You get sturdy brass metal zippers in the beekeeping veil and around the jacket, these provide better security than plastic zips. A velcro strap is also built-in where the zippers meet, preventing any sneaky bees from finding an easy way through. The wrists and waist are elasticated which gives added protection and a sense of comfort.
You've also got three pockets on the front for handy storage, a great place for keeping your tools, phone, and other accessories. The pockets come with velcro straps, this is great for stopping bees from entering and hiding in your pockets.
Pros
100% cotton and heavy duty canvas
Strong hood and veil
Cons
Only a jacket, so not covering your whole body
Slightly hot (but that comes with the price of having heavy duty canvas!)
Summary
For $49.99, you are getting good value for money and a well-designed protective jacket. A sturdy and heavyweight canvas, a high-security hood, and a strong veil make this a solid choice.
100% Cotton and Heavy Duty Canvas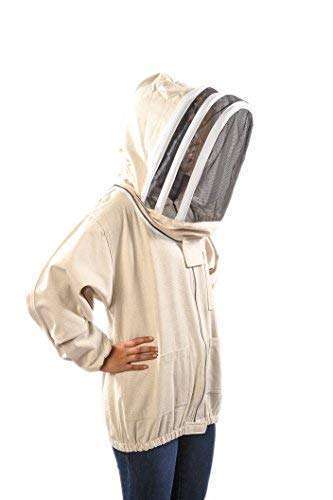 Forest Beekeeping Supply Hood Jacket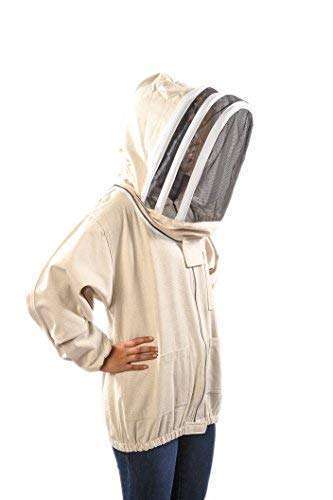 Strong Hood And Veil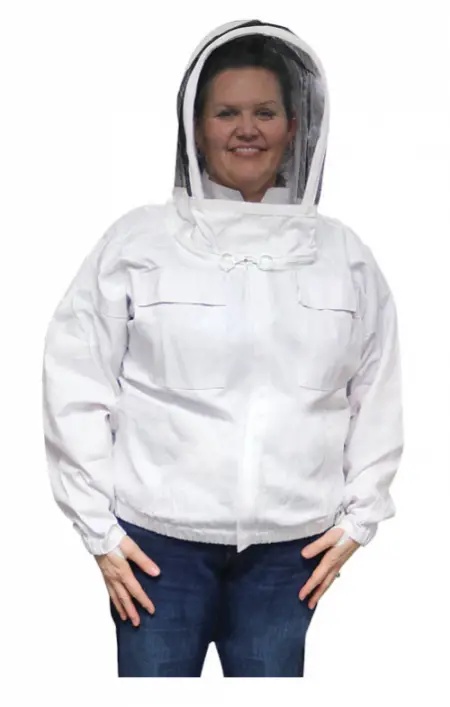 The Mann Lake beekeeper jacket is another jacket-only option for those who prefer that style of protection. You've got four pockets in total on the front, there are two open pockets close to the waist and this makes for quick and easy access, and there are two covered pockets with flaps on the chest area for storing things like keys and phones.
This jacket is made from polycotton and includes a collapsible hood that consists of two layers of fabric for even greater protection to the head and neck area. It also includes elastic waists and wrists that gives added security around these key areas.
Strong, heavy duty zips have been used and the velcro flap is a useful addition to stop bees entering your jacket through any gaps that the zips might leave. This jacket is great for those who work in rough terrains.
Pros
Better visibility than other bee veils
Durable and heavy-duty material
Cons
The veil can get a little close to the face at times, we recommend wearing a cap so the veil is lifted away from the face
Summary
For just over $50 you get a strong jacket that offers enough protection whilst also allowing the user freedom to move around. The material used is very durable and offers enough ventilation in warmer weather. The hood is also one of the strongest designs that we have seen.
Durable and heavy-duty material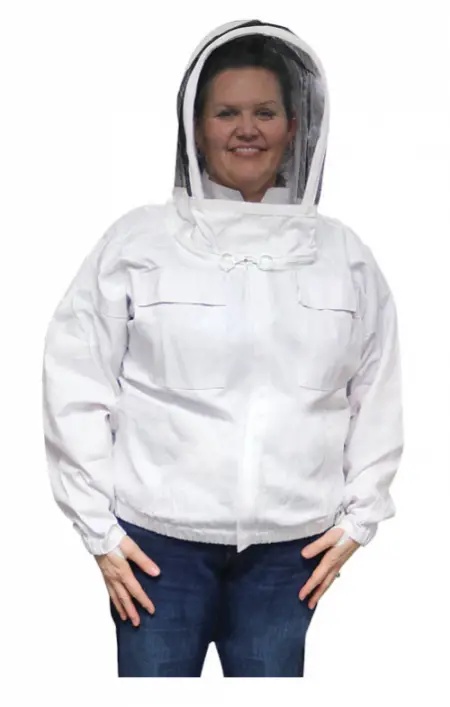 Mann Lake Economy Beekeeper Jacket With Self Supporting Veil
Better Visabliity Than Other Veils
Another option from the Humble Bee company, but this time it's a jacket. The design and features are very similar to the full beekeeper suit we reviewed earlier on from Humble Bee, this jacket uses a poly cotton material that provides excellent protection from stings and offers comfort and aeration throughout the day.
Elastic can be found around the waist and wrists, plus some useful thumb straps to prevent the sleeves from rolling up. The round veil provides superb vision and is removable so cleaning and storing the veil is made a lot easier.
The jacket comes with four pockets on the front, two top pockets across the chest with velcro flaps, and two open pockets at the waist. You even get a carrying case if you ever need to take the jacket out and about with you.
Pros
Excellent visibility from the round veil
Light and breathable
Cons
Only covers the upper body
Summary
It's a well-designed beekeepers jacket from Humble Bee and a great choice for those who prefer the jacket style over the full suit. At around $60, you are getting value for money, considering the durable material and excellent round veil that comes with it.
Humble Bee 310-XL Polycotton Beekeeping Jacket
Excellent Visibility From the Round Veil
Best Bee Suit – Our Top Pick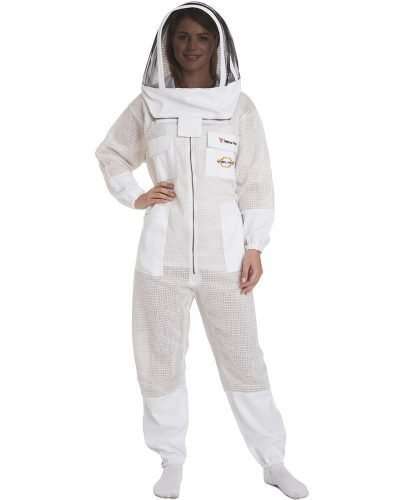 The Zephyros bee suit sits at the higher end of the pricing ladder, but you do get what you pay for and this beekeeping suit brings with it some innovative design. That being said, it's our top pick for the best bee suit and we can't recommend it enough. It boasts a triple layer mix of polycotton and latex gives you the ultimate level of protection, you'll find that no stingers are able to make their way through this material making it the perfect sting proof bee suit.
The bee suit is light and comfortable to wear, giving you maximum flexibility for when you are moving around. The veil is strong and offers up excellent visibility and you've got those heavy-duty zippers and double stitched seams for extra security.
The pockets are well-designed, they are deep and located in all of the right locations giving you easy access to all of your tools. Your vulnerable areas are well protected as well with reinforced arm and leg sections for extra protection.
Pros
Offers excellent protection
Comfortable and flexible
Cons
Summary
At over $200 the Zephyros beekeeping suit is expensive but you do get a great design and you'll be pleasantly surprised at how comfortable this suit is when you've got it on. You can move around easily and the bees will not be able to get anywhere near you, giving much-needed confidence for beginners.
Natural Apiary Zephyros Protect Ventilated Beekeeping Suit
Offers Excellent Protection
Top Budget Friendly Beekeeping Suit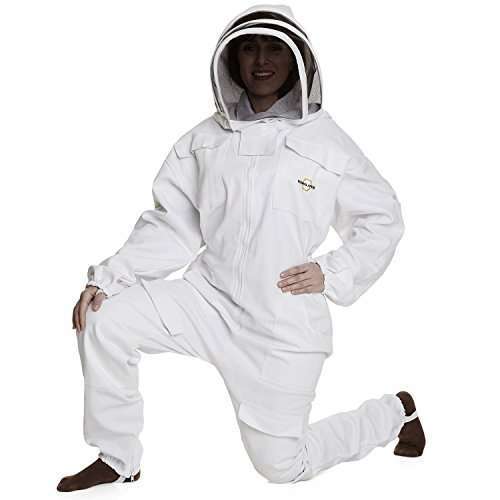 The Natural Apiary all-in-one beekeeping suit is another good option for beginners and those who want value for money. The suit is made from a polycotton mix of 65% cotton and 35% polyester, it keeps you well ventilated and is light enough to let you move around freely.
The added strength in the collar allows for added protection around this delicate and vulnerable area. The fencing veil can be easily zipped on and off and keeps the bees well away from your face.
Elastic ankles and wrists give you more security around your feet and hands. The waist is also elasticated which gives the suit a better fit around the body. Getting in and out of the suit is easy with the help of sturdy, heavy duty zips.
Conveniently placed pockets are useful for both left and right-handed users, they are large enough to keep all of your typical tools and bits and pieces in. The suit is also available in various colors, popular choices are white, sand and pink.
Pros
Great value for money
Lightweight
Cons
Not as heavy duty as some of the other suits
Summary
At around $100 you can't really go wrong with this beekeeping suit, you get an all-in-one bee suit with a secure and well-designed veil. The material is light yet offers up enough protection to prevent the bees from stinging you, and you've got more than enough pockets to keep everything with you at all times.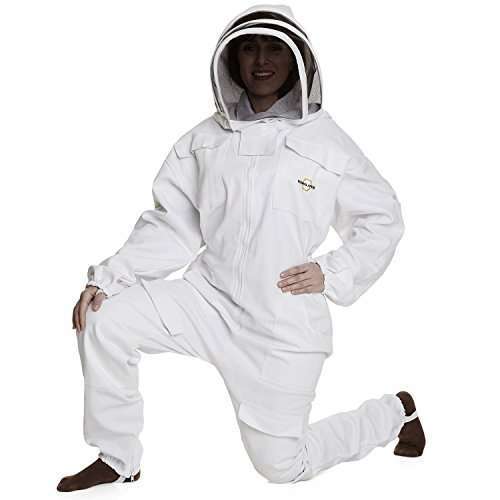 Natural Apiary - Apiarist Beekeeping Suit (All-in-One)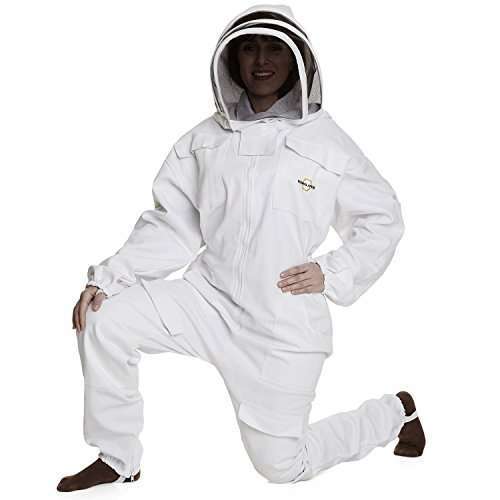 Lightweight
Things To Consider When Buying A Bee Suit
A quick search for bee suits on the internet will bring up all sorts of offers and deals, but sometimes these deals are not in keeping with the quality you would expect.
You need to be careful and make sure that you are buying a beekeeping suit that meets your requirements, whether you are a beginner or seasoned beekeeping veteran, you need clothing that will make you feel confident and comfortable.
Any protective bee suits worth buying should be well-designed with extra consideration taken around the key areas. We will look through these areas in more detail, but here's a quick checklist for reference:
Fit
Fabric
Features
Hat
Veil
Gloves
Color
Fit
You need to be comfortable and flexible in your beekeeper suit, so taking extra care in choosing the right size will pay off in the long run.
Buying a beekeeping suit that is too big, or too small, will only cause you hassle when you're tending to your bees. You'll find yourself bending over and twisting around, so flexibility in your beekeeping suit is going to be key.
An oversized beekeeping suit will just get in the way, you'll end up messing around with the baggy material and moving around will become more awkward.
A bee suit that is too tight will also result in an uncomfortable experience, you will feel restricted and less able to move around.
A tight-fitting suit will also mean that your skin is closer to the outer layer of the beekeeping suit, giving bigger bees the potential to sting you through any weakened areas of material.
We recommend taking extra time to read the sizing charts and to double check your sizing requirements as well. A well-fitted beekeeping suit makes beekeeping a lot more enjoyable, so be sure to do your homework in this area.
Fabric
Various types of fabrics are available when it comes to beekeeping suits, a popular option is a polycotton material which is a blend of polyester and cotton. Polycotton provides a durable and breathable fabric that can help to prevent bee stings.
Ventilated and aerated are also common options when searching for a beekeeping suit. Ventilated bee suits are usually designed with three layers, a foam layer is used to create an air gap between the outer and inner fabric layers.
The idea behind this is that the foam layer creates enough room so that the bee stinger will not be able to make contact with your skin.
Aerated bee suits consist of a polycotton fabric, they provide extra security around the chest and back with the use of foam panels and a mesh wiring system, which also gives added air flow around the suit for a cooler experience on hotter days.
Features
Well-designed beekeeping suits will come with multiple pockets and safety precautions. Pockets around the front with easy access to tools will make beekeeping life a lot easier, double-stitched pockets and seams are also a good sign of a well-made beekeeping suit.
Most bee suits should come equipped with elastic around the waist, wrists, and ankles. This helps to keep out any stubborn bees who are intent on finding a way inside.
We also like to see the use of velcro around these areas, this gives a tighter fit and increases the protection around these vulnerable areas.
Hat
The hat is obviously a very important part of your beekeeping suit, keeping your head, face and neck safe is crucial for a successful and happy beekeeping hobby or career!
There are all sorts of different hats available and it mainly comes down to two options, with or without the veil (which is the mesh that wraps around the face and neck) attached.
It seems to us that the option with the veil attached is going to offer a lot more security around this delicate area of the body.
Anything that can be taken apart is more likely to wear down and break, we do recommend that you give yourself the best protection with the attached veil options.
Veils
Veils are a key area of any beekeeping suit, it needs to give you protection around the face and neck but also offer good visibility for when you are working with your bees.
As mentioned above, veils come either attached to the hat or as an add-on feature. The veils that come attached will give you more confidence as you don't need to worry about the veil coming undone or lifting up.
The fewer things that you have to worry about, the more enjoyable your beekeeping journey will be!
We have a fantastic article to help aid you in finding the best bee veil that meets your criteria.
You've usually got three types of veils to choose from and each one comes with its own advantages. However, it will come down to preference and how comfortable you feel with each type, here are your choices:
Round veils are a traditional design that gives keepers a large viewing area while also offering full protection of the face, the spacious design also allows for extra ventilation.
Fencing veils are a modern design that allows for maximum headspace, this is a great option for those with big hair or for those who need to tie their hair up, you've got plenty of space inside a fencing veil.
Square veils are perfect for beekeepers with limited space, they fold away into a compact size for easy storage. They do not give as much viewing area as the round veils, but they are a common choice for many beekeeping hobbyists.
Gloves
Gloves are another important area to consider when choosing from multiple beekeeping suits. Your hands are always going to be closest to the bees when working, so having strong and secure gloves is essential.
Beekeeping gloves with elastic or velcro are best, a combination of the two is even better, and having the gloves attached to the rest of the suit will give the best possible protection.
Color
Many beekeepers in the past have noticed that bees are simply not fans of dark colors! Stick to lighter shades and it will help to keep your bees friendly and on your side.
White is most common and this is what you will find most of the suits come in nowadays, plus it helps to keep you cooler as darker colors attract more heat.
So, if you live in a hot climate then a white (or light colored) suit is a win-win for you. In all honesty, your suit will not stay clean and white for very long anyway, but the main point here is to stay away from dark colors and keep your bees happy.
Do Beekeeping Suits Really Work?
It's only natural for bees to attack if they feel that their home is under threat and sure, bee stings are not pleasant, but this doesn't mean that you should throw in the honey-making hat just yet.
There are precautions that you can take to prevent those bees from stinging you and the best way is to get yourself a bee suit.
These outfits come as all-in-one suits, jackets with hoods and there are various types of veils to choose from as well, all designed and created to keep a friendly relationship between you and your bees.
The safety aspect of beekeeping is often overlooked, people get excited and research the fun stuff like what type of bees they will keep, the honey extraction methods and all of the cool gadgets that are available.
However, they forget to fully prepare themselves on keeping safe. It's obvious that a hive of bees can pose a threat if they all decide to attack at once, so having the correct protection is essential.
As mentioned, there are many different styles, offering varying amounts of safety, all at different prices.
You would be surprised at how bees can still sting you through a poorly designed bee suit, so knowing which ones are best will save you time, money and some unnecessary stings as well
Natural Apiary Zephyros Protect Ventilated Beekeeping Suit
Offers Excellent Protection
Is there a sting proof bee suit?
A farmer named Ian Roberts developed what he called a "virtually sting-proof" bee suit after a friend who was a bee-keeper suffered a severe allergic reaction after being stung.

The material in the "Sentinel Pro 3D Bee Suit" is thicker than the average bee sting, making it extremly durable.